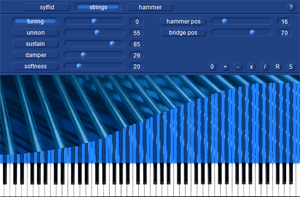 Sylfid-f1

This VSTi / AU plug-in generates sounds based on a new physical model of strings.
Although similar to a dulcimer or a piano (a hammer hits virtual strings) the sound is quite different: the goal is not to emulate any existing instrument, but to create new musical instruments.
Every parameters can be controlled on a per-string basis, allowing to tune the instrument in many different ways, and to produce a wide variety of different sounds. more...